Jingle Bells written by Confederate

By Timothy Daiss
James Pierpont led an interesting, if not controversial, life. He was born in New England in 1822 to John Pierpont, an abolitionist and Unitarian clergyman. James traveled to Savannah in the 1850s, wrote "Jingle Bells" and took up arms against his native state during the War for Southern Independence.

<![if !vml]>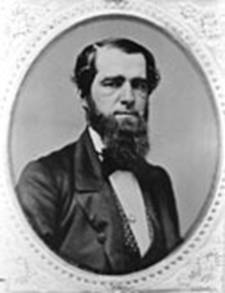 <![endif]> When James was born, John Pierpont had little reason to suspect that his son would rebel so ardently and so long. James ran away from home at the tender age of 14, boarded the Shark, and served as a deck hand in the Pacific. Eventually returning, he headed to California during the Gold Rush.

 In 1846 James was back in New England where he married Millicent Cowee of Troy, N.Y. They settled in Medford, Mass. and had three children. In 1853 Millicent died prematurely and James  headed to Savannah to visit his brother John Pierpont Jr., rector of the Unitarian Church at Troup  Square. Eventually taking the position of music director, James tried to piece his life back together. In 1857 he married Eliza Jane Purse, daughter of war time Savannah mayor Thomas  Purse. The same year he obtained a copyright for his song  The One Horse Open Sleigh," which  later became "Jingle Bells." In 1859, the Unitarian Church in Savannah closed due to its abolitionist leanings, unpopular in those parts at that time. By at least 1860, Rev. John Pierpont, Jr. had returned to the North.
Apparently, his father-in-law had a significant impact on James. In April 1862, James enlisted as a clerk in the First Georgia Battalion which soon became part of the 5th Georgia Volunteer Cavalry, C.S. Army. James saw hypocrisy in the North's anti-slavery stance since many made money from it.
True to form, his father accepted a position as a chaplain in the Union Army and served with the 22nd Massachusetts Volunteers. Later, he worked in the Treasury Department and became friends with the Lincoln family. He died soon after the end of the war.
It is likely that James saw limited action during his war years. An ad in a 1863 Savannah newspaper offered a reward for a stolen horse that belonged to "James Pierpont of the Isle of Hope Regiment." James composed several patriotic songs during his war years, among them, "We Conquer Or Die," "Our Battle Flag," and "Strike for the South."

After the war, James spent time in Valdosta and Quitman and eventually became a music professor at Quitman Academy. His last years were spent at his son's home in Winter Haven, Fla. In spite of its success, James never witnessed the enormous popularity of "Jingle Bells," enjoying neither fame nor fortune. He died in 1893 as a footnote in history, his accomplishments largely unrecognized. He was buried in Florida, but his body was moved less than a year later to Laurel Grove Cemetery in Savannah.

JINGLE BELLS CONTROVERSY

A controversy erupted in 1989 when the people of Medford, Mass., claimed that James had written "Jingle Bells" there and not in Savannah. Medford Mayor Michael J. McGlynn fired the first shot. In a letter to then Savannah mayor John P. Rousakis he stated: "We take strong exception to Mr. Rahn's theory that Jingle Bells was not written in Medford, Mass., in 1850." McGlynn's claims are based on two facts: An original historical marker once in front of the Simpson Tavern where James supposedly composed the song and an eyewitness. The marker was damaged by a snow plow and discarded, but the Medford Historical Society has a record of the marker. According to McGlynn, the marker is proof of his city's claims. In addition, McGlynn states that Pierpont composed Jingle Bells in front of a Mrs. Otis Waterman "at the Simpson Tavern on Mr. William Weber's piano in 1850."
Milton Rahn stands in front of James Pierpont's grave marker in Laurel Grove Cemetery where Pierpont was reburied in 1893, in Savannah, Ga., Dec. 15. Rahn, who began researching James Pierpont and Savannah Unitarian Church more than 30 years ago, believes that Pierpont wrote the famous Christmas carol 'Jingle Bells" while serving at the Savannah church in 1857. The Associated Press

On May 24 Mayor Rousakis replied: "We are happy to share with you our documentation regarding James Lord Pierpont's years in Savannah..." Rousakis cited numerous Pierpont letters to disprove the Medford theory. "As you know," Rousakis wrote, "historians and those who propose to erect markers must work with facts, not folklore and assumptions." Rousakis listed several reasons to substantiate his own claims.

Local author Margaret DeBolt, who has studied and written extensively about Pierpont, sees holes in McGlynn's theory. "In 1850 Pierpont was in California, not in Medford," she said. "He was there during the Gold Rush, not as a miner but as a businessman and was also trying to set up a photography shop in San Francisco."

"Plus," she adds, "the Simpson Tavern referred to was a boarding house in 1850, only later did it it become a tavern."

The controversy remains and both cities have markers that claim Pierpont's song as their own.

Yet, a few facts are constant: Both agree that the song originated from Pierpont's remembrance of his childhood days spent sleighing in the New England snow, and "Jingle Bells," no matter where it was written, has been a holiday favorite for over a century.
Timothy Daiss is a journalist, syndicated columnist and author of "In the Saddle: Exploits of the 5th Georgia Cavalry" (Schiffer Military History, 1999), and, "Rebels, Saints and Sinners: Savannah's Rich History and Colorful Personalities" (Pelican Publishing, 2