Covington During the War For Southern Independence
Covington, east of Conyers on the Georgia Railroad, was a town whose prosperity was based on cotton, and the beautiful antebellum homes found here reflected true Southern culture from that period. Mills powered by the Alcovy River near Covington made it an industrial target of Sherman's army as well, and Union Brig. Gen. Kenner Garrard's cavalry forces raided the area from July 22-24, 1864, while the Battle of Atlanta raged west of him down the railroad line. The raid was successful, as Garrard burned the railroad depot, hospital center of 30 unoccupied buildings, cotton, commissary supplies, trains, bridges, and six miles of track. Doing so prevented Confederate Gen. John Bell Hood's army in Atlanta from receiving reinforcements from the Eastern Theater, as they had during Chickamauga. Garrard returned to Atlanta with 200 prisoners, leaving Covington to pick up the pieces.
On the 27th, Stoneman camped near Covington on his way toward Macon, where he would be turned back, defeated, and captured by Gen. Alfred Iverson, Jr.'s cavalry near Sunshine Church at Round Oak.
On Nov. 18 of the same year, Gen. W. T. Sherman, traveling with the XIV Corps, moved through Covington on his "March to the Sea." His troops looted the town and residences but did not burn it. Wrote Sherman about Covington, "the soldiers closed up their ranks, the color-bearers unfurling their flags, and the bands striking up patriotic airs. The white people came out of their houses to behold the sight, in spite of their deep hatred of the invaders, and the negroes were simply frantic with joy." It took from 9 a.m. to late in the evening for the entire column to march through the town, pausing between Covington and east of the town to camp for the night.
Swanscombe, the former home of Confederate Gen. Robert J. Henderson built in 1828. The First United Methodist Church, 1854, and the "Old Church," 1841, were used as Civil War hospitals.
On the square is a Confederate monument. The Covington Confederate Monument was unveiled April 26, 1906. All the Newton Confederate Veterans and their families were present, with several thousand enthusiastic people. The monument was erected by the joint efforts of Jefferson Lamar Camp, UCV, The Ladies Memorial Association, The Da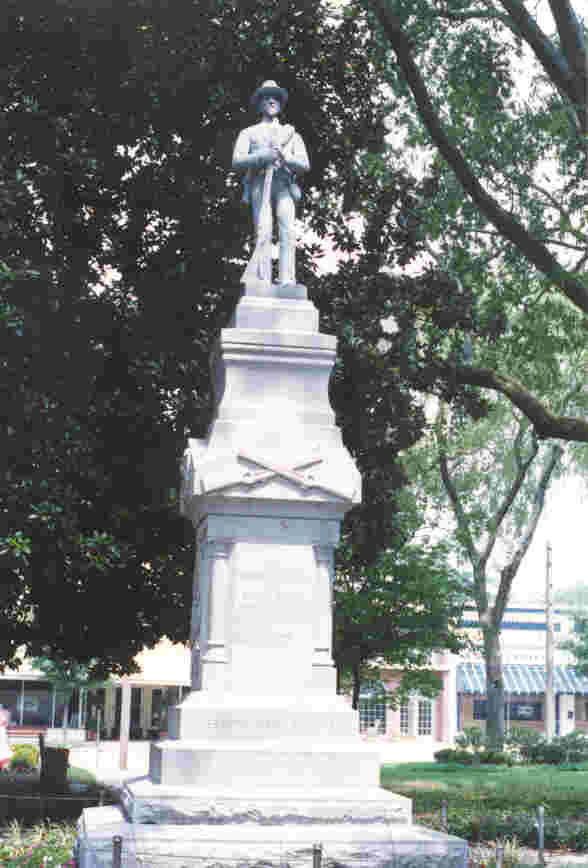 ughters of the Confederacy and local citizens.
It stands in Central Park. A soldier standing at rest is on top of the monument holding his musket in both hands. Below him are two crossed muskets and below the muskets it reads, "To the Confederate dead of Newton County their gallant heroic deeds like monumental shafts arise from out the graveyard of the past, and mark the tombs where valor lies."
While this monument is erected in memory of Confederate soldiers and the sacred cause for which they contended it is intended to commemorate the noble women whose fearless patriotism and sublime lives, heroic and self-sacrificing service enhanced the holiness of that cause and prolonged the struggle for its supremacy by inspiring its champions with increased ardor and enthusiasm and gallantry in their contest. No sordid or mercenary spirit animated by those to whom this monument is erected or inspired the men who bravely fought and the women who freely suffered for it. Its final failure could not dishonor it nor did defeat estrange its devotees.

"When marble wears away, and monuments are dust, the songs that guard our soldier's clay, will still fulfill their trust." The Covington Chapter #23 of the U.D.C. is no longer active.
Covington Confederate Cemetery Newton County, GA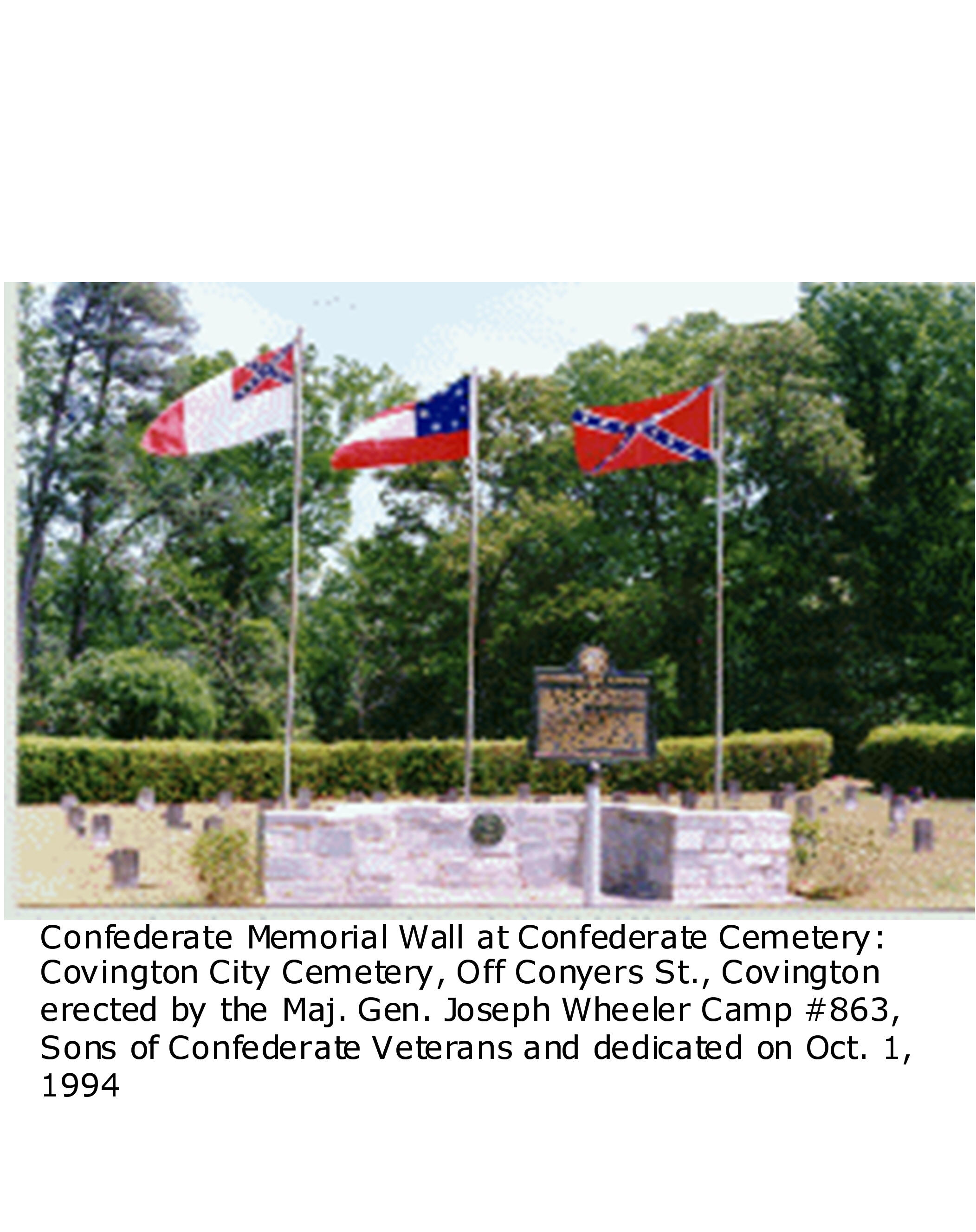 Information from "CONFEDERATE VETERAN" , Volume VI, 1898, page nine

.
This list of interments is extracted from an article about the cemetery.  
 The complete list was made by G. D. Heard in 1898.
D. SOUTHERLAND, 68th GA
J. C. EDWARDS, 25th GA
J. H. CARTER, 63d GA
D. BOSIER, 64th GA
J. S. HALLAND, 8th GA
R. S. GODFREY, 34th GA
J. BEASLEY, 63d GA
W. P. HOWARD, 66th GA
L. W. FARR, 66th GA
W. B. HANNAH, 54th GA
W. D. POOL, 27th GA
E. S. LADING, 55th GA
J. S. ABRAMS, 66th GA
H. KNIGHT, 63d GA
William BROWN, 8th GA BAT
J. W. MAEGINGO, 4th GA BAT
G. D. HANSON, 1st GA CAV
J. V. WOODSON, Cobb's Legion
L. S. PORTER, 24th MS
S. B. FORRESTER, 43d MS
R. J. PEARCE, 34th MS
A. MEASLE, 33d AL
J. WILLIS, 38th AL
T. WEAVER, 34th AL
N. MARTIN, 29th AL
J. HESTER, 28th AL
M. A. MUNSON, 58th AL
W. A. ALAERSON, 58th AL
A. H. WHILLY, 1st AL
M. KONEY, 6th AL
R. THOMPSON, 36th AL
J. S. BROOKS, 33d AL
J. A. ROBERSON, 12th AL BAT
J. E. MITCHELL, __ AR
T. WRIGHT, 66th GA
W. KEMP, 6th GA
T. J. BEALL, 37th GA
O. J. BATCHELOR, 66th GA
E. RAINEY, 4th GA BAT
W. H. HENDRICK, 29th MS
J. KOBB, 35th MS
J. A. CLARK, __ MS
S. CONNELLY, 7th MS
J. DOOLEY, 8th MS
T. OTTERSON, 44th MS
E. EDSON, 37th MS
J. ALLEN, 28th MS CAV
W. D. DARKHAM, 2d FL
W. C. RASBERRY, 42d FL
H. E. FANK, 5th KY
H. S. LONDAR, 41st TN
A. J. WHITSON, 6th TN
S. GOSSET, __ TN
J. M. WHITE, 91st TN
W. W. COFFEE, 26th TN
J. M. WHITE, 19th TN
R. RICHARDSON, 38th TN
W. BAILY, 1st TN
J. H. ADCOCK, 1st TN
__ SKELTON, 29th TN
J. D. McDOWELL, 19th SC
W. W. BAILY, 24th NC
J. W. RAPE, 7th TX
J. J. GILL, Company G __
W. J. BURTERY, Baxter ART
"UNKNOWN" Eight graves
Covington was another important hospital town of the Confederacy, treating more than 20,000 soldiers from 1862-64 at the Hill, Hood, Lumpkin, and other hospitals, under the immediate supervision of Samuel H. Stout, Medical Director Confederate Army of Tennessee. Not everyone survived at these hospitals, and 67 known and unknown Confederates who died of wounds or disease are buried in the Covington City Cemetery, honored by a stone platform, historical marker, and three flags. Confederate Generals James P. Simms and Robert J. Henderson are buried close to each other in this cemetery. Simms fought in Virginia, and Henderson led his men in the Army of Tennessee and was wounded at Resaca. Henderson survived and fought on, eventually surrendering at Greensboro, N.C. April 26, 1865. Another famous Confederate General was born in Covington, George Thomas 'Tige' Anderson, born February 3, 1824 was wounded at Second Manassas and Gettysburg. He later moved to Atlanta and
became a railroad freight agent and Chief of Police. He later moved to Anniston, Alabama, becoming Chief of Police there and county tax collector. He d
ied April 4, 1901.
He is buried in Anniston's Edgemont Cemetery
at Anniston AL. The Gen. George Thomas "Tige" Anderson Camp # 2038, Sons of Confederate Veterans of Covington, Georgia is named after him.


Soldier's Cemetery, Confederate Cemetery
Oxford Cemetery: Oxford College at Emory St. and W. Collingsworth, Oxford
Oxford College, established in 1836, is the birthplace of Emory University, which later moved to Atlanta. Oxford closed during the war, and the literary society buildings (Few and Phi Gamma) were used as Confederate hospitals. Down a wooded path behind the college gym is a secluded, quiet cemetery containing 25 Confederate graves and a Confederate memorial. The Oxford community has thirty structures built in the 1800s, including the home where Confederate spy Izora "Zora" Fair hid, at 1005 Asbury St. She disguised herself as a black while spying on the Union army in Atlanta. Oxford's currently defunct Phi Gamma Hall was used during the war as a Confederate hospital and is said to be inhabited by the ghost by a Confederate nurse. It is currently slated to be combined with the campus library to create a larger academic space.
Where the Soldiers Sleep
<![if !vml]>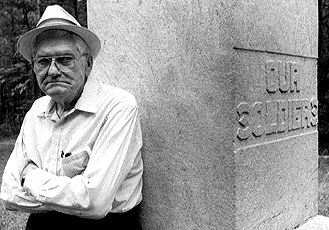 <![endif]>
Oxford Professor Emeritus of Mathematics Marshall Elizer helped restore the small Civil War cemetery on the Oxford campus. Photo by Ann Borden
In the months leading up to the Battle of Atlanta late in the summer of 1864, the citizens of Oxford received more than just news of General William Tecumseh Sherman's advances south from Chattanooga; they witnessed the bloodshed firsthand. Many Confederate soldiers wounded in skirmishes along Sherman's path were taken by rail to Oxford, where the Emory College campus had been transformed into a military hospital.
Because there was no way to carry home those who died at Emory, they were buried nearby, leaving a poignant reminder of Oxford's role in the Civil War. In a small cemetery on the wooded, southern edge of the campus, thirty-one grave markers--some with names, company identifications, home states, and dates, and some marked "Anonymous"--surround a tall, gray granite obelisk that reads simply, "Our Soldiers." All the men buried there died between January and December of 1864.
"The sick were being shipped to points on the Atlanta and West Point Road," wrote Walter A. Clark, a former Emory student and Confederate orderly sergeant who published a memoir of his service years in 1900. "Sick and wounded were said to be 'dying like sheep.' Having no special desire to die in that way or in any other way . . . I asked assignment to some hospital on the Georgia Railroad." In July of 1864, the ailing Clark was carried by the Georgia Railroad to Oxford.
He was recuperating there when Union cavalry forces under the command of Brigadier General Kenner Garrard raided Oxford. Clark wrote about the day in his memoir:
The old college chapel where I had attended morning and evening prayer during my college course had been converted into a hospital dining room. On July 22, a few days after my arrival, the convalescents were taking their midday meal in this room when the clatter of a horse's feet was heard. There was some commotion outside and the men hurriedly left the table to investigate its cause. It required but a few minutes to size up the situation. A few feet from the door on a horse covered with foam sat a red-headed Yankee in blue uniform and with full equipment. This same day is recorded in the diary of Dolly Burge, a widow who lived on a plantation near Oxford and who later married Rev. William J. Parks, one of Emory's charter trustees. "A never to be forgotten day," Burge wrote.
We have heard the loud booming of the cannon all day nearly. . . . I saw the servants running to the palings, & I walked to the door, when I saw such a stampede as I never witnessed before. Here came Eliza [a neighbor] back, the road full of carriages, wagons, men on horseback, all riding at full speed. Judge Floyd stopped saying, "Mrs. Burge, the Yankees are coming. They have got my family, & here is all I have upon earth. Hide your mules & carriages & whatever valuables you have." Of the thirty-one Confederate dead buried in the tiny plot on the Oxford campus, Marshall Elizer, professor emeritus of mathematics and town history buff, says, "Whether these bodies are under these particular stones, I doubt it. . . . I imagine some were buried at the same time. [The obelisk and the markers] were put up many years after, maybe around the turn of the century when there was a movement to get monuments done."
For many years, the cemetery was the site of the annual Confederate Memorial Day observances on April 26. Around the turn of the century, former Emory President and Chancellor Warren A. Candler wrote, "Thither go the ladies of Oxford on Memorial Days to decorate these graves; and upon the little cemetery not a little care is bestowed to preserve and beautify it. As long as a part of the educational work of Emory is continued at Oxford this spot where the soldiers sleep will be held as especially sacred."
As time wore on, the plot was forgotten and left to deteriorate, until 1978, when Elizer, former Oxford Dean Bond Fleming, and Professor Emeritus of Biology Curry T. Haynes undertook its renovation. Using a small fund from the estate of Wilbur Harwell, an Oxford native and the town's former postmaster, they planted grass, plumbed the obelisk, and straightened the markers and curbing around the edge.
In recent years, Elizer says, the cemetery has sometimes been the setting for courtships. "This is a good, quiet place to come down and hold hands and what not, and I'm sure a lot of romance has taken place here." More prevalent, he continues, are certain "depredations--initiations and that sort of thing for secret societies." He recalls having retrieved a grave marker or two from dormitories through the years, but the most lasting evidence of student shenanigans is a metal capital letter D embedded in the face of the obelisk and a number 7 in its back. Presumably, the D represents Dooley, the spirit of Emory, and the 7 suggests one of the College's earliest secret societies, the Mystic Seven. Elizer first noticed the symbols three years ago."I sort of thought about having them taken down," he says, "but then I didn't."--Allison O. Adams
A '
FAIR
' WOMAN'S LOVE ALMOST FOILED SHERMAN'S GEORGIA MARCH
by Beverly L. Pack
In Georgia's long history Sherman's March to the Sea stands as a testimonial to the tragedy of war in the South. The devastation, however, might have been averted had a Georgia woman succeeded in conveying the Union general's plan to the Confederate Army.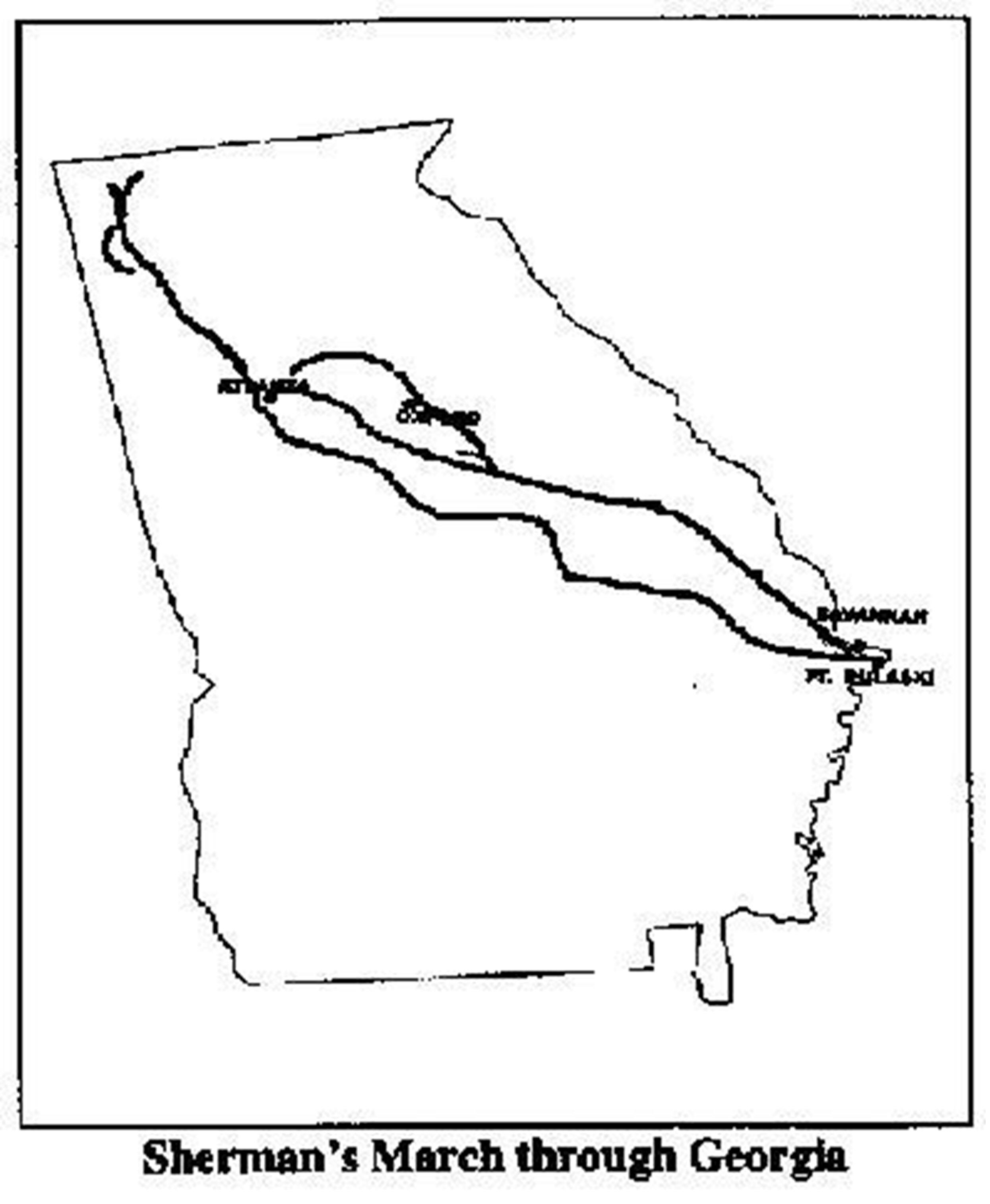 Izora "Zora" M. Fair, a frail woman of medium height, lived in the small Georgia town of Oxford, the site of Emory College. Imbued with a strong spirit as well as a passion for her family and small town, she decided to travel to Sherman's headquarters in Atlanta and learn what she could.
Disguised as a black woman looking for her husband who had run away to go to "Marse Sherman," Fair began the forty-mile trek to Atlanta. Several days later she reached the colonial mansion on Peachtree Street (afterwards known as Leydon House) which Sherman used as a headquarters. Waiting outside General Sherman's office, she overheard the plan to divide the Union Amy of 70,000 men and travel by Macon and Milledgeville, then meet and lay siege to Savannah. Sherman's route was to lead by Covington and Fair's beloved Oxford.
Hastily, Fair began the trek back to Oxford. On her way a sentinel demanded the password. Her silvery voice had betrayed her. Without halting, she quickened her step, and the sentinel fired -- Fair fell among the weeds at the roadside and feigned death. Later, she cautiously rose, saw the way was clear and continued her journey home. On blistered and swollen feet, Fair finally traversed the forty miles in less than three days. On her arrival she wrote a detailed note to General Joseph Johnston at Lincolnton, North Carolina, revealing Sherman's route as she knew it. She bravely signed her own name to the document.
Unfortunately for Fair and the South, Federal scouts captured the mail bag containing her letter. Soon after, Union troops began the search for Fair, who sought refuge in the homes of friends. When those places became unsafe, Fair fled into the cold, dreary November night to "The Rock," a romantic spot two miles from the town. Fortunately, for the delicate fugitive with blistered feet and aching limbs, Union troops abandoned the search after three days and Fair returned home.
Many were the tragedies and heartbreaks when Sherman "smashed things to the sea," but none more touching than the grief of Zora Fair over the desolation of the beautiful Georgia land. She had risked her life to turn back Sherman -- and fate denied her the chance. It was like a butterfly against a hurricane. The girl seemed crushed. The fatigue and exposure of her experience as a spy seriously injured her health. She returned to her native Carolina to spend her last days, and there died a few months after leaving her cherished Oxford.
Further
Reading
Lewis, Howard Meriwether. Grandmother Stories From the Land of Used-To-Be. Spartanburg, SC: The Reprint Company, 1974. First published 1913.
Jones, Katherine M. Heroines of Dixie. Indianopolis, Ind: Bobbs Merrill, 1955.
Simkins, Francis Butler. The Women of the Confederacy. Richmond, Va: Garrett and Massie, Inc., 1936.
Perkerson, Medora Field. White Columns in Georgia. New York: Rinehart, 1952.