<![if !vml]>

<![endif]>November 2008
<![if !vml]>

<![endif]>
G E O R G I A
<![if !vml]>

<![endif]>BATTLEFIELDS
Published by Georgia Battlefields Association, Inc., a non-profit organization dedicated to preservation of Georgia's Civil War history and sites. Contact newsletter editor by info@georgiabattlefields.org
GBA nominates Lovejoy's Station for most endangered list
GBA again nominated Lovejoy's Station for the Civil War Preservation Trust's most endangered site list (see October 2007 newsletter). Recent developments at the site have highlighted the opportunity for saving a large amount of additional land.
Lovejoy's Station was the site of four engagements in 1864:
· 29 July cavalry clash as the Federals under Edward McCook attempted to cut the railroad before turning west and meeting defeat at Brown's Mill.
· 20 August battle as Federal cavalry under Judson Kilpatrick was hemmed in by Confederate infantry and cavalry. The Federals charged eastward, and most got away.
· 3 September infantry clash as the Confederate Army of Tennessee attempted to reassemble and hold off the bulk of three Federal armies.
· 15 November skirmish as Federal cavalry drove Confederate cavalry towards Lovejoy' s Station, and Georgia militia that had occupied the site since mid-October retreated southward.
In 2005, Henry County purchased the Nash Farm, comprising 204 acres that witnessed the 20 August Federal cavalry charge and a 3 September advance by a Confederate infantry corps. The western boundary of the Nash Farm is the county line between Henry and Clayton counties, and 75 acres immediately west of the Nash Farm are owned by a developer who has applied to rezone the property. The current housing slump has reduced the impetus to rezone the site, but it remains vulnerable.
Most recently, the Clayton County Water Authority has announced plans to reconfigure a 4,000 acre site that it is currently using as a wastewater spray field. The property contains acreage in both Clayton and Henry Counties, with the western, southern, and eastern boundaries indicated by the dotted line on the map. This site contains the remains of Confederate and Federal trenches from September 1864 as well as at least five Federal camp sites. The change of use of this property is what prompted GBA to nominate Lovejoy's Station for the 2009 most endangered site list, though it has previously appeared on the at-risk list in 2007 and 2008. While the Water Authority has thus far been responsive to proposals to preserve the earthworks, preservation must be formalized so that the historic aspects of the property are not lost.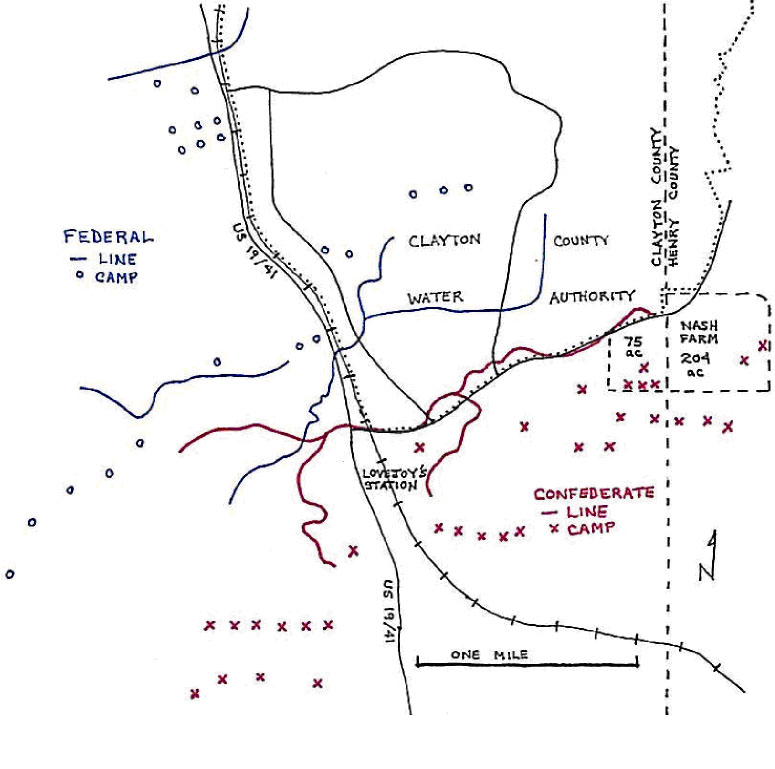 Groundbreaking at Resaca
On 27 October, a bright blue sky and a blustery northwest wind greeted over
150 people who attended the groundbreaking for a Visitors Center at Resaca State Historic site. Among the speakers, Commissioner of Natural Resources Noel Holcomb and Commissioner of Economic Development Ken Stewart expressed the state government's intent for the new facility to be a gateway to all Civil War sites in Georgia and also for it to be a key feature in the state's efforts to commemorate the Civil War Sesquicentennial.
Friends of Resaca Battlefield President Ken Padgett mentioned GBA among the groups responsible for saving the site and continuing to work for its preservation and interpretation. Ken specifically cited the efforts of Olly Keller, and he acknowledged Olly's widow Joan among the audience. The photo shows the ceremonial groundbreaking, with Ken Padgett (second from left), Commissioners Holcomb and Stewart (third and fifth from left) and State Parks Director Becky Kelley (sixth from left) among other local politicians and dignitaries.
2009 GBA tour with Ed Bearss
We've done much of the initial planning for our annual tour led by Ed Bearss.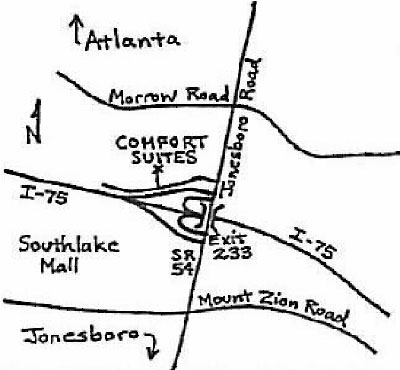 In 2009, we'll cover the Federal cavalry actions of the Atlanta Campaign (Brown's Mill, Sunshine Church, King's Tanyard, Lovejoy's Station, etc.) as well as the climactic Battle of Jonesboro. As usual, we'll start with a Thursday evening reception at the hotel, followed by all day bus tours on Friday and Saturday, and a half day tour on Sunday.
In addition to Ed Bearss, David Evans, author of Sherman's Horsemen, the definitive account of Federal cavalry operations during the Atlanta Campaign, will be joining us as a guide.
Dates: 12-15 March 2009
Hotel: Comfort Suites, 1444 Southlake Plaza Dr, Morrow GA 30260.
Call 678 674 1300 and ask for the Georgia Battlefields Association rate of $89 (~$100 with tax). Price: $395.
<![if !vml]>
<![endif]>Note: This is an early bird price. As we are still negotiating for the meals and venues, this price may increase. If you get your check in early, we will honor this price.
You must be a GBA member to register for the tour, and your participation is confirmed when your check (payable to GBA) arrives at 7 Camden Rd NE, Atlanta GA 30309.
Georgia Battlefields Association
7 Camden Rd NE
Atlanta GA 30309