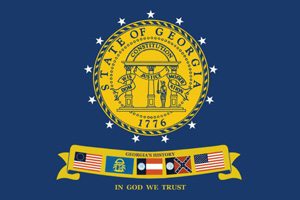 Barnes flag: Georgia flag 2001-2003

On January 31, 2001 Governor Roy Barnes signed into law a bill to change the design of the state flag. For more than 15 years, opponents of the flag rallied and introduced legislation aimed at removing the confederate emblem featured prominently on the 1956 state flag. Because of the controversy, many Georgia cities and private businesses throughout the state refused to fly the official Georgia flag, opting instead to display the pre-1956 version.

In early 2000, Atlanta architect Cecil Alexander brought forth a "compromise" flag design consisting of the state seal, fittingly depicted in "Dahlonega Gold," surrounded by 13 white stars. Below is a gold ribbon containing small images of the three state flags that have flown over Georgia, as well as the current and past versions of the United States flag. Above the small rows of flags is the phrase "Georgia's History."

On January 24, 2001, the Georgia House approved H.B. 16, adopting Alexander's flag design as the new state flag with an amendment to add "In God We Trust" beneath the ribbon of flags. H.B. 16 was then transmitted to the Senate, where it was passed without amendment on January 30, 2001.

The 2001 flag, was supposedly less offensive, and was definitely not popular. It was seen as looking as though it had been "designed by a committee," and was too complicated and busy. The North American Vexillological Association ranked it as the worst flag in North America by a wide margin, and stated that it "violates all basic rules of flag design."