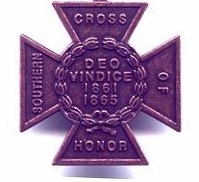 The Roll of Honor
"Not for fame or reward -
Not for place or for rank -
Not lured by ambition -
Or goaded by necessity -
But in simple -
Obedience to duty -
As they understood it
These men suffered all -
Sacrificed All -
Dared all - And Died -"
Dr. Randolph Harrison McKim, who went from the ranks of the Confederate Army into the Ministry, and was the rector of Epiphany Church in Washington, D.C.
Below is a list of Confederate patriots our Camp members represent. It is their memory, their cause, their heritage that we honor and will never forget and we stand against all who would eliminate, disparage, and defame them.
The application form for Camp members to place their ancestor on the Roll of Honor can be downloaded here. After filling out the form and printing, return the form to the next Camp meeting.
Thomas David Anderson
Tinsley Alexander Greenway - Private, McMullan Guards, Co. D 37th Regt. GA Inf., (formally Co. A, 9th battalion, Georgia Vol. Inf.), Army of Tenn., CSA Hart Co. Ga. Died and buried at Bean's Station, TN. November 05, 1862.
Ambrose Powell Hill - General, III Corps, Army of North Virginia, Died April 2, 1865, buried Richmond, VA
William Adrian Anderson - Private, Co. H, Goshen Blues, 38th Regt. Ga. Inf. captured at the Battle of Mine's Run May 12, 1864 and transferred as a POW to Ft. Delaware, DE. He was release March of 1865 in exchange of prisoners and received at Bouldware and Cox Wharves, James River, VA. around March 10 or 12, 1865. Died 1880, buried at Dove's Creek Cemetery, Elbert Co. GA
John D. Skelton - 1st Corporal, McMullan Guards, Co. D 37th Regt. GA Inf., (formally Co. A, 9th Battalion, Georgia Vol. Inf.), Army of Tenn., CSA Hart Co. Ga. died August 12, 1903, buried at Sardis Church Hart Co. GA
James Chambers Hall - 2nd Lieutenant Oct. 15, 1861 Co. H, Goshen Blues, 38th Regt. Ga. Inf. Elected 1st Lieutenant June 1, 1862. Promoted to Captain, 1862. Died of typhoid fever in Warwick House Hospital at Lynchburg, Va. Aug. 16, 1862. Buried at Hall Family Cemetery, Goss community, Elberton, Elbert Co. Ga.
Daniel Bass
Gideon R. Bass - Private, Co. B 39th Regiment, Miss. Inf. POW Port Hudson Louisiana July 1863 paroled July 1863 Enterprise, Miss. Co. K 14th Regt. Confederate Cavalry Vols. POW Citronella, Ala. May 04, 1865. Paroled May 12, 1865 Gainesville, Ala. Died Nov. 28, 1906 Buried at Bethlehem Cemetery, Voan, Ark.
Stephen C. Bates - Private, Co. B 10th Regt. Ark. Cav. Died Dec. 13, 1913 Buried Goodner Cemetery, Oden, Ark.
Benjamin Franklin Hendrix - Private, Co. V 33rd Regt. Ark. Inf. Vol. Died Oct 1863
Joseph Howard Underwood
J. Polk Underwood - Private, Alexander's Company, Georgia Guard, Died Dec. 24, 1916 buried at Bethel Christian Church Cemetery in North Rockdale Co
Perry Lee White
Andrew Lafayette Sylar - 2nd Corporal, Co. B 32nd Regt. Ark. Inf. May, 28, 1862 Cotton Plant Ark. Captured at Helena, Arkansas July 4, 1863. POW records shows as prisoner at Alton, Ill. Records show out of service May 20, 1865. Died Dec. 12, 1887, buried at Midway Cemetery, Phillips, Ark. near Walnut Cornner.
Gene Wade
Phillip J Odom - 2nd Sgt., originally enlisted Co B, 27th Tennessee Infantry in 1861 then discharged & enlisted July 6, 1863 in Co F, 21st Wilson's Tennessee Cavalry. Wounded in shoulder at Heaton's Ridge (McNairy Co, Tenn.) about Jan 1865. While at home recovering was taken into custody as Guerilla and imprisoned Nashville, Tenn. Pension file application says he escaped prison and rejoined unit until paroled at Gainesville, Ala in May 1865. Permanently disabled from wound. Died 1904 and buried McNairy County, Tenn.
Simeon Perkins - Private, enlisted Feb 1862 in Co B, 11th Texas Infantry Regiment. Captured at Grand Coteau, LA Nov 3, 1863. Held as prisoner at New Orleans Customs House until sent to New Iberia, LA and exchanged. Served until May 1865 when Trans-Mississippi Department disbanded. Died 1908 and buried Floyd Co, Texas
Isiah Simpson Perry - Private, enlisted August 1, 1861 Co B, 27th Tennessee Infantry. Detailed Dec 25, 1861 to be Acting Assistant Surgeon. (was physician in civilian life). Died in camp (disease?) at Tupelo, Miss on July 8, 1862. Buried near Tupelo in a grave that was once marked but exact burial site cannot be located.
Samuel H. Perkins - Private, enlisted April 22, 1862 at Crawfordsville, Miss in Co F, 35th Miss Infantry. Captured at Kennesaw Mountain, GA about June 30, 1864.Sent to Louisville, Ky then to infamous Camp Douglas. Died of smallpox on Nov 24, 1864. Buried in "Confederate Mound". Name listed on monument. at mound.
Jesse Martin Odom - Private, enlisted Dec 3, 1861 at Columbus, Ky for 1 year and reenlisted at Corinth, Miss for 2 more years in Co B, 27th Tennessee Infantry. Captured Nov 25th, 1863 at Missionary Ridge, Tenn. Sent to Nashville, Tenn. and then Louisville, Ky and arrived infamous Rock Island, Ill prison camp on December 8, 1863. Listed on prison rolls until Dec 25, 1863 but no record of him after that date. Never returned home to wife and 7 children. Believe buried in unmarked grave at Rock Island.
Harvey Blackburn Wade - Private, known to have served in Co I, 34th Tennessee Infantry Regiment but records for individuals have been lost and rosters are incomplete per "Tennesseans In The Civil War" so his exact service is unknown. Unit also called 4th Tenn. Volunteers, 4th Tennessee Infantry Regiment and individual companies appear to have previously been in existence under different unit names until partisan units were made part of formal Regiments. Died 25 April 1889 in McNairy County Tenn. Unit surrendered and paroled with rest of Joseph E. Johnson's army at Greensboro, N.C. May 1, 1865.