The Great Cavalry Raid

This is the story of the Great Raid ordered by General Sherman and carried out by cavalry under Major General George Stoneman, Brigadier General Kenner Garrard, and Brigadier General Edward M. McCook. It occurred five days after the raid by Garrard on July 22, 1864.
<![if !vml]>
<![endif]>
Union Brig. General Edward M. McCook
Sherman faced by insurmountable fortifications around Atlanta sought to cut the railroad south of Atlanta thereby removing the means of supply to the defenders. It was his plan to send three divisions of picked cavalry in a deep "pincer" movement to the south of Atlanta. Separate units moving one from the east and one from the west would converge on the railroad at Lovejoy's Station on the Macon & Western Railroad twenty-six miles below Atlanta. There they would destroy the railroad and proceed to Macon tearing up the railroad as they went.
General Stoneman commanded the eastern wing. Before setting out on the raid he requested permission from Sherman to continue fifty miles southwest of Macon to Camp Sumter, the prisoner of war camp at Andersonville. There he would attempt to liberate the thirty-thousand Union Soldiers confined in the camp. Sherman gave his permission to this plan; although, he expressed the opinion that this was probaby more than could be accomplished.
Stoneman's command left Decatur at dawn on July 27, 1864. It consisted of a force of two thousand one hundred-twelve mounted men and two guns of the 24th Indiana Battery. He passed through Conyers where the depot lay in ruins from the raid of the 22nd. He then proceeded down the east bank toward Macon. It was his private plan to proceed on to Andersonville and not join the other divisions. Stoneman burned and pillaged several communities as he approached Macon all the while failing to keep General Garrard informed of his whereabouts. By not following the original plan Stoneman doomed the Union operation from the start. Any hope for success depended upon reuniting the Federal forces so that their superior numbers could be brought to bear against the tactical avantage the Confederates had in being on familiar ground.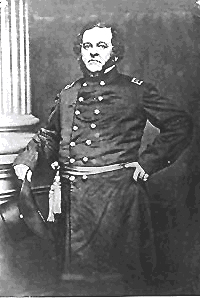 Confederate Maj. Gen. Howell Cobb
On July 30th he approached the fortifications of Macon where he was confronted by Major General Howell Cobb with a force of some fifteen hundred citizen volunteers and Georgia Militia. This force was supported by artillery on commanding high ground east of the Ocmulgee River. Stoneman decided to bypass Macon and pro­ceed on to Andersonville. At this point he received a false report that Confederate cavalry were entering Macon to reinforce the garrison. Stoneman appears to have lost his nerve and committment. He turned his division around and headed north toward the town of Clinton and unknowingly toward the pursuing Confederates.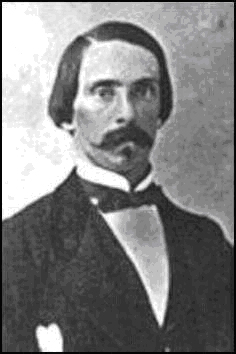 Confederate Brig Gen. Alfred Iverson
Brigadier General Alfred Iverson had been selected by General Joseph Wheeler to lead the force in pursuit of Stoneman because he was from Clinton and was familiar with the area. At 9:30 a.m. on the morning of July 31st Stoneman advanced and found Iverson's force astride the road on a ridge which had been chosen because of its rugged ravines running perpendicular to the road. Iverson's line leveled a pun­ishing fire on the Union Soldiers leaving the field strewn with Federal dead and wounded.
Stoneman regrouped but the skillful deployment of small mounted forces sent to his rear convinced Stoneman that the force had arrived which had been reported the previous day and that he was surrounded. One of the forces consisted of only twenty-five men. A mad scramble ensued as the Union troups tried to get to their mounts. Stoneman was convinced that he was surrounded even though he actually had a superior force of over two thousand to the Confederates one thousand three hundred.
Stoneman was captured on the hill which now bears his name along with five hun­dred officers and men. The others escaped and retreated by various routes back to Marietta to join General Sherman and to report the defeat.
Stoneman reportedly wept when told after his capture that he had surrendered to a force considerable smaller than his own. He was imprisoned at Macon and wrote General Sherman that they had been whipped because of the conduct of a Kentucky Brigade under its commander Adams which had broken ranks in the face of the en­emy. Actually the defeat can be better attributed to Stoneman's failure to follow the original plan of the operation. First he did not follow the original route which was to join with Garrards Division at Flat Rock on the South River and from there to proceed to Lovejoy's Station where there they were to meet up with McCooks Divi­sion and continue toward Macon. Second, he retraced his route which made it easier for the Confederates to locate him and mount an attack.
Garrard's Raid As Reported by Augusta Chronicle

Taken from the Augusta Chronicle of July 24, 1864


Up The Road - The following we learn from passengers who arrived by train this morning.
A Yankee raiding party made their appearance at Conyers Depot on Friday. This town is one hundred and fifty miles from Augusta and thirty-one from Atlanta. At This place they captured two trains - a freight and passenter train. It is not known of how many cars the first was composed of. The latter consited of about twelve freight and one passenger Car. Both were destroyed. The depot at Conyers was also burned. An engineer who escaped on a mule states that the raiding party numbered about forty of fifty men. As he was riding off, he was fired at several times, but was not injured.
At Covington, there are three hospitals. At last accounts, there were about fifteen hundred sick and wounded in them. None of these had been removed. All the hospital stores were also left in the place.
The Yankees also made their appearance at Covington Friday. This town is forty-one miles from Atlanta and one hundred and thirty from Augusta. Parties who escaped from this place say that they saw a dense smoke arising from about the locality of the depot and suppose that the Yankees had fired that building. Most of the government stores had been removed. The depot was filled with furniture belonging to refugees.
It is thought that the bridge over Yellow River about a mile above Covington was burned, as the raiders were seen going towards that section.
We are also informed that a party of Yankees were seen going in the direction of Alcova bridge five miles this side of Covington. As this bridge has not been guarded, it is supposed that the raiders destroyed it.
The train now runs as far as Buck Head ninety-six miles from Augusta and seventy-five from Atlanta.
Our informant states that great excitement exists all along the line of the road.