The War Comes to "Conyers Station"
by Rosanna Taylor
Rockdale County Genealogical Society
During the War Between the States, perhaps the two most important military actions to take place right here in Conyers, on the very ground where we sit in fact, were Garrard's Raid and Sherman's March to the Sea. The Rockdale County Genealogical Society's Civil War Group is researching both of these events, and I will include briefly our findings. The first of these will be Garrard's Raid.
<![if !vml]>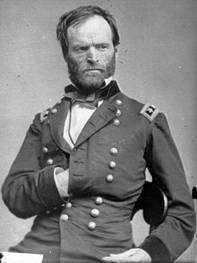 <![endif]>

Union General William T. Sherman
In July of 1864 the Battle of Atlanta was raging. General W. T. Sherman, in command of the Union Forces, wanted the Georgia Railroad crippled so that Confederate re-enforcements could not be brought in from Augusta. He ordered General Kenner Garrard to mount a cavalry raid to burn the railroad bridges across the Yellow and Alcovy Rivers. Garrard led his men out of Decatur on the rainy night of July 21, 1864, crossing the Yellow River at the Rockbridge, thus putting his troops on the side of the Yellow River where his ultimate destination of Covington lay. But, he did not overlook Conyers. He sent two companies of the 98th Illinois Mounted Infantry to cross back over the Yellow River. This force of about fifty men charged into Conyers mid-morning on July 22, just as a train arrived at the station. A skirmish ensued, but the raiders were soon in command and took sixteen Confederate soldiers and citizens prisoner. They set fire to the train and the depot, then rode out of town to the east toward the big 550-foot railroad bridge across the Yellow River, which was the next object of their destruction. In those sudden, short minutes the citizens of Conyers would have witnessed the fury and the ruin of war, and they would know that the heartland of Georgia, safe from invasion until now, was safe no longer.
<![if !vml]>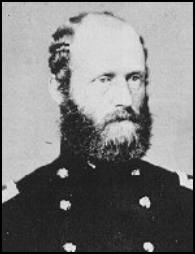 <![endif]> Union General Kenner Garrard
Rebel spirits would be revived somewhat the next day, when right through Conyers, right by here on the Covington Road, thundered General Joe Wheeler's Confederate cavalry on the trail of the raiders. The day of the raid, July 22, Wheeler had been engaged in a fierce battle in Decatur, but when he heard of Garrard's raid he was off in hot pursuit. General Garrard himself and the 3,500 men which made up his main column never came to Conyers. They moved eastward just north of the Yellow River in a path which would take them through Oxford to Covington. They burned bridges, stores of cotton, hospital facilities, wreaking a quick havoc, mindful not tarry long enough to give Wheeler a chance to catch up with them. They were successful. They severed the Georgia Railroad and returned safely back to Decatur on July 24th, with only five
<![if !vml]>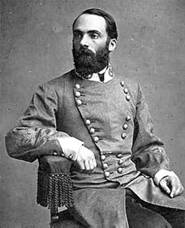 <![endif]> Confederate Maj. Gen. Joseph "Fight'n Joe" Wheeler
casual­ties. They had ridden 90 miles in three days and had managed to stay one jump ahead of Fighting Joe Wheeler.
A few months later the Civil War would come to Conyers in a much bigger way. In mid-November of 1864 General Sherman led his army out of the defeated City of Atlanta and began his famous March to the Sea. Over the next few weeks he would move 60,000 soldiers across the state of Georgia to Savannah. On November 17, 1864, 15,000 of them with Sherman himself at their head marched right through downtown Conyers, while another 15,000 passed through the northern part of present-day Rockdale, crossing Big Haynes Creek at Dial Mill.
So much has been written on (about) this famous march that one could speak at length on the subject; but, I will take up just one aspect of the March, the matter of foraging.
Established military practice has it that armies are better supplied by friends than foes, thus Sherman's superior, Ulysses S. Grant, took some persuading when Sherman declared, "I can make this march, and make Georgia howl." His radical plan called for "No general train of supplies," instead the army would "forage liberally on the country." This was, in large part, how the "howling" would be accomplished.
With an army of 60,000 men, General Sherman had a lot of mouths to feed; but, Georgia in November of 1864 would prove equal to the task. In war, as in life, timing is everything. Sherman, in his Memoirs, tells us, "the recent crop...had been just gathered and laid by for winter."
<![if !vml]>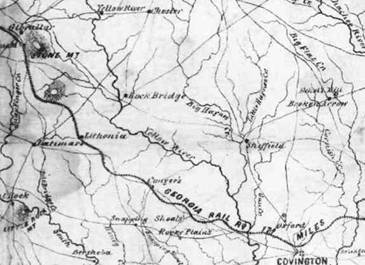 <![endif]>

1864 map of Rockdale County (then part of Newton, Henry, Walton and Gwinnett Counties).
Good timing would contribute, but the success of the March would also require good organization. The plan of the march called for the four corps which made up Sherman's army to follow four different roads "as near parallel as possible." In this way they could appear to threaten both Augusta to the east and Macon to the south, while concealing their true destination of Savannah; but, also by this, they were living off a wide rather than a narrow swath of Georgia's farmbelt. Still each of the four roads would be supporting 15,000 men. These were long columns, stretching as long as five miles. When the head of Sherman's corps marched into Conyers the rear of the column would have just been leaving Lithonia.
There are many colorful, and somewhat touching, stories of local residents hiding their food in the walls of their houses and such; but, despite this, Union soldiers cannot speak too highly of all they find to eat. Roast pork, sweet potatoes drizzled with molasses, corn, and chicken. Homes and farms in the direct line of march would be picked clean by the men of the main column; but, for the most part, the job of these men was to march, to stay together and move quickly and safely through enemy territory.
The foraging essential to the survival of so vast a force was done by special details selected from each brigade by the brigade commander. These men were chosen for their boldness and enterprise, and their success shows that their work was carefully planned. Each foraging party would set out at daybreak on foot, because they could then procure a wagon or family carriage, horses and mules from the farms and plantations they descended on, then use the inhabitants' own vehicles to haul off their bacon, corn-meal, turkeys, all their (other) food. The foragers would know the plan of march so that at day's end it was a simple matter to rejoin the column where they would deliver the goods to the brigade commissary and the feasting would begin. Sherman said, "Often would I pass these foraging-parties at the roadside and was amused at their strange collection-mules, horses even cattle packed with old saddles and loaded with hams, bacon, bags of cornmeal, and poultry of every ..description." p.659
In addition to 60,000 men, Sherman had thousands of horses, mules, and cattle to feed; but, this was no problem either with Georgia providing fodder in abundance. There were cribs full of corn just standing in the fields as if made to order. Sherman says, "The wagons drove close alongside, and the men in the cribs,...kicked out a wagon- load of corn in the time I have taken to describe it."
During Sherman's month-long march through Georgia only four days of government rations were used by his army of 60,000; the rest was foraged liberally off the country. Did he say, "I will make Georgia howl", or did he say, "I will make their stomachs growl?"