Jefferson Davis: The Last American
Davis, Jefferson (b. June 3, 1808; d. December 5, 1889) U.S. representative and senator, Mexican War hero, and president of the Confederate States of America.)
<![if !vml]>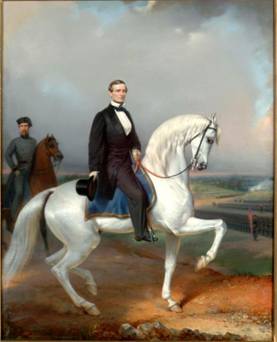 <![endif]>
Jefferson Davis, best known as president of the Confederate States of America, is credited with shaping the Confederacy and leading it in the War for Southern Independence. In the years before the war, he served as Mississippi representative and senator, and was also a hero in the Mexican War. The defeat of Davis's Confederacy reshaped American society and government as well as the U.S. Constitution.
Born in a porting of Christian County, (which was afterwards set off as Todd county), Kentucky, June 3, 1808 to Samuel Emory Davis, a Revolutionary War solider and a farmer of modest means, Jefferson Davis moved to Mississippi as a child and is most identified with that state, which was then on the frontier. He was educated at Transylvania College and the U.S. Military Academy at West Point, graduating in 1828. Afterward, he was an army officer, serving in the infantry and the dragoons in the Northwest (now Wisconsin and Michigan) and Southwest (now Oklahoma), until 1835. He resigned to marry his first wife Sallie Knox Taylor, daughter of President Zachary Taylor, who died soon after their marriage. He then became a successful cotton planter at Davis Bend, near Vicksburg, Mississippi. He married Varina Howell in 1845, and they eventually had six children, only one of whom survived to marry and have children of her own.
In the early 1840s Davis became interested in politics and joined the Democratic Party, of which he was to be a lifelong member. He was in his first term in the House of Representatives when he was elected to lead a volunteer regiment in the Mexican War. As colonel of the Mississippi Rifles he fought heroically in the Battle of Monterrey and again in the Battle of Buena Vista, where he was seriously wounded. Soon after Davis returned home in 1847, the governor of Mississippi appointed him to represent Mississippi in the Senate, and he was soon elected to that position. He was an effective chairman of the Military Affairs Committee and a strong defender of Southern interests, including the extension of slavery. In 1851 he ran for governor, losing in a very close race. In 1853 President Franklin Pierce appointed him secretary of war. He was a success in this position, upgrading the course of study at West Point, increasing the size of the army and its pay, surveying various possible routes to the Pacific for railroads, importing camels for army use in the deserts of the West, and supervising many construction projects in Washington, such as the new dome for the Capitol and the Washington Aqueduct. He also took a great interest in scientific inventions and was a trustee of the Smithsonian Institution.
<![if !vml]>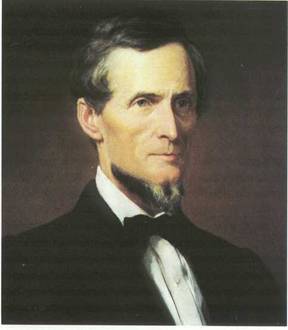 <![endif]>
Jefferson Davis
In 1861, while Davis was serving as senator, Mississippi voted to secede from the United States. Davis left Washington reluctantly to follow his state. He hoped for a high military appointment in the Confederate army, but because of his experience in politics he was elected president of the new nation. During the four years of the War for Southern Independence, he was devoted to the Confederate cause. Despite his dedication, he was criticized for being too concerned with details, too rigid, and too loyal to old friends; but he won admiration for his military skills, his convictions, his honesty and integrity, and his choice of Robert E. Lee to command the Army of Northern Virginia. Davis's overriding belief in the power of the states over that of the central government proved quite a stumbling block when he found himself in charge of a national administration, the strength of which was essential to waging war.
During the conflict, the South was overwhelmed by the North's much larger resources in manpower, money, and industry. The protection and extension of the institution of slavery, which white Southerners believed key to their economy and way of life, were the underlying reasons for war. In the end, these goals proved indefensible, both practically and morally. Also, the existence of slavery made it all but impossible to secure the foreign aid from England or France, along with other foreign nations, which would have helped the South.
In April 1865 Union forces seized Richmond, Virginia, the Confederate capital. Davis fled southward but was captured May 10, 1865, at Irwinsville, Georgia. He was indicted for treason and for a time was believed to be involved in the plot to assassinate Abraham Lincoln, evidence showed he and his administration had no involvement. Imprisoned for two years, Davis was never tried and was stripped of his U.S. citizenship. He traveled, became the president of the Carolina Life Insurance Company in Memphis, Tennessee, and retired to live in Biloxi, Mississippi living at his estate known as Beauvoir. Over the next three years he wrote his memoirs, The Rise and Fall of the Confederate Government (1881), visited Europe and traveled to Alabama and Georgia the following year. In October 1889 he completed A Short History of the Confederate States of America. Two months later, December 6 he died in New Orleans Louisianan. There he remains laid in state at Confederate Memorial Hall and buried temporarily at Metairie Cemetery. On May 27, 1893 his remains were recovered and the vision of Mrs. Jefferson (Varina) Davis, which she had three years earlier, came to reality when a funeral train with military escort was secured for a 1,200 mile funeral train trip from New Orleans to be buried at Hollywood Cemetery, Richmond, Virginia. He received posthumously his citizenship of the united States of America when President Jimmy Carter signed S.J. Res. 16 as Public Law 95-466, on October 17, 1978.
Bibliography
Cooper, William J., Jr. Jefferson Davis, American. New York: Knopf, 2000.
Davis, Jefferson. Jefferson Davis, Constitutionalist: His Letters, Papers and Speeches, edited by Dunbar Rowland. 10 vols. Jackson, MS: Department of Archives and History, 1923.
Davis, Jefferson. The Papers of Jefferson Davis, edited by Haskell M. Monroe, Jr., et al. 11 vols. Baton Rouge: Louisiana State University Press, 1971–2003.
Davis, Varina Howell. Jefferson Davis, Ex-President of the Confederate States of America: A Memoir. 2 vols. New York: Belford Co., 1890.
Davis, William C. Jefferson Davis: The Man and His Hour. New York: HarperCollins, 1991.
Internet Resource
"The Papers of Jefferson Davis." Rice University. Available from http://jeffersondavis.rice.edu
Jefferson Davis biography, Civil War Biographies, American Civil War website http://www.civilwarhome.com/jdavisbio.htm
Virtualology's Museum of History A preeminent exhibition dedicated to researching and recording the historic account of human accomplishment, essence, beliefs, attitudes, vision, and goals. http://www.jeffersondavis.net/
Mary Washington University Online Video Lecture "Jefferson Davis: The Man and His Hour" William C. Davis http://webcast.andyrush.net/video/?p=26
CSPAN2 Book TV interview with author Willam J. Cooper, Jr. Jefferson Davis, American http://www.booktv.org/program.aspx?ProgramId=7834&SectionName=Encore%20Booknotes&PlayMedia=Yes