The Abiding Faith of Stonewall Jackson
November 15, 2007
<![if !vml]>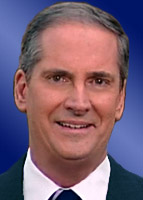 <![endif]>
Lee Webb
CBN News Anchor
In the 13 years I've been at CBN, I can think of few stories that have been more satisfying to produce and report than Civil War: Faith in Black and White. It's available for viewing here on our website. It tells the story of how three men, including the famous Confederate generals, Robert E. Lee and Stonewall Jackson, crossed racial lines for the sake of the Gospel.
The only frustration I had in producing the story was deciding which fascinating anecdotes I had to leave out because of time constraints. Allow me to share a couple of them with you in this space.
The first one demonstrates just how much Jackson's Sunday School class for black children meant to him. Noted Civil War historian, Dr. James I. Robertson, told me that after Jackson led his troops to an impressive victory at the First Manassas, the towns people back in Lexington were anxious to hear of their local hero's exploits.
When they gathered to hear Jackson's latest letter read aloud, they thought they would hear great details of the battle and the role Jackson had played in the victory. But all it said was, in effect, "After a rather arduous day yesterday, I suddenly realized I had not sent my contribution for the Sunday School class." The money was enclosed. And he would continue to contribute to the class until his death in 1863.
And that leads to the second anecdote. Jackson was accidentally shot by his own men during the Battle of Chancellorsville. The wound would force doctors to amputate his left arm. Tucker Lacy, Jackson's corps chaplain, ministering to Jackson, would exclaim, "Oh, General, what a calamity!"
Jackson would respond with words that ministered to the minister: "You see me severely wounded, but not depressed; not unhappy. I believe that it has been done according to God's holy will, and I acquiesce entirely in it. You may think it strange; but you never saw me more perfectly contented than I am to-day; for I am sure that my Heavenly Father designs this affliction for my good. I am perfectly satisfied, that either in this life, or in that which is to come, I shall discover that what it is now regarded as a calamity, is a blessing." He would go on to say, "I can wait, until God, in his own time, shall make known to me the object he has in thus afflicting me. If it were in my power to replace my arm, I would not dare to do it, unless I could know it was the will of my Heavenly Father."
This account is taken from John Waugh's terrific book, The Class of 1846: From West Point to Appomattox.
Stonewall Jackson was a man of remarkable faith in our Sovereign God!
Civil War: Faith in Black and White
By Lee Webb
CBN News
November 18, 2007
CBNNews.com - RICHMOND, Va. - The past can't always be explained or understood by what we read in the history books. Sometimes it's filled with little-known facts that cause us to re-evaluate the people and events that make history.
Today, the capital of Virginia is a vibrant center for business and industry, surrounded by more than a million people.
But in the spring of 1865, Richmond could not have looked more different.
The Civil War was near an end, and 80 square-blocks of the former Confederate capital were in ashes.
This is where a Confederate hospital stood in those closing days of the war. It was overflowing with wounded and dying soldiers. There weren't enough chaplains to minister to them.
A Slave Ministers to Confederates
That's where a slave named John Jasper stepped in. Jasper came to Christ in the tobacco warehouse owned by his master.
He would become a well-known Richmond pastor. Jasper's Sixth Mount Zion Baptist Church remains one of the city's most prominent churches.
In those closing days of the Civil War, he volunteered to bring spiritual comfort to Confederate soldiers.
Dr. A.G. Miller, a religion professor at Oberlin College, says Jasper saw this as his Christian duty.
"His desire to be free, yet his desire to do what he sees as God's call on his life, regardless - caught in the circumstances that he's in," Miller said. "He's going to do as best as he can to serve God, with whomever it may be, in his circumstance."
Those were desperate days here in Richmond.
General Lee Kneeling with a Black Man
One Sunday in June of 1865, just after the war ended, St. Paul's Episcopal, was packed with folks leaning on each other and God for understanding about what their future held. But they could never have imagined what would happen during the service.
When the pastor began to serve communion, a well-dressed black man came forward first.
It would be an understatement to say that the event caused a few awkward moments among the white congregants. They remained seated, except one man who went forward and knelt near him.
That man was General Robert E. Lee.
The general's actions come as no surprise to noted Civil War historian James Robertson, who says Lee was a man of duty and faith.
"His duty was to his native state, both in war and in peace," Robertson, a history professor at Virginia Tech, said. "His faith was very deep-seated. And I think Lee was simply exhibiting both. He knew that the South had been crushed, defeated, humiliated. He knew he had a duty to himself, to his God to help reconstruct his beloved Virginia as much as he could."
The rest of the congregation followed Lee's example and took communion as well.
Jackson: The Black Man's Friend?
But it's a stained glass window that represents one of the greatest ironies of the Civil War. The window honors another prominent Confederate general: Stonewall Jackson.
The window is not in a museum. It's proudly displayed in the predominantly black Fifth Avenue Presbyterian Church in Roanoke, Va.
The church's founding pastor Rev. Lylburn Downing designed the window in 1906 to honor Jackson for leading his parents to faith in Christ when they were slave children.
Prior to the Civil War, Jackson was a professor at the Virginia Military Institute, and a deacon at the Lexington Presbyterian Church.
In 1855, the man who would become one of the Civil War's most famous generals, began a Sunday school class for black children, slave and free.
Downing's father and mother were among his many students.
"As he saw it, slavery was something that God ordained upon black people in America for God's own reasons," Robertson said. "And he had no right to challenge God's will. That was blasphemy. And so, while he hated slavery, he was opposed to slavery, Jackson had to obey his Heavenly Father and accept the system. And he accepted it through doing the Golden Rule, do unto others as he would wish they do unto him."
Professor Miller believes Jackson's justification of slavery on biblical grounds was wrong.
"Yet in the midst of all of that, I think that people can do good stuff, maybe for all the wrong reasons, but motivated by sincere hearts," he said.
That sincerity is confirmed by the fact that Jackson was willing to break Virginia law by teaching the class. Even after the war began, Jackson sent money back to the church to keep the class going.
Richard Williams has documented Jackson's ministry in a book called, Stonewall Jackson: The Black Man's Friend.
He says the Sunday school class had a generational impact.
" a number of scholars, as Jackson referred to his students, that went on to become ministers," Williams said. "There were four churches established, three in Lexington and then this one. Two of those churches in Lexington are still vibrant ministries today."
And when a statue at Jackson's gravesite in Lexington was erected in 1891, it was one of Jackson's scholars-turned-pastor who made the first contribution.
How do the members of Fifth Avenue Presbyterian Church feel about a stained glass window honoring a Confederate general?
Freeland Pendleton, who's been a member of the church most of his life, says he has no problem with it.
"The reason I was okay with it because he had the courage to teach us, teach blacks to read and write," Pendleton said. "Whether he was fighting for slavery, or whatever, he did do a good thing."
What lessons can we learn of stories like this?
"I think we like to make history simple," Miller said. "I think we like to say there are just good guys and bad guys and that depends on which side, who's the good and who's the bad."
"It encourages me, especially today when we see our country so divided over so many issues," Williams said. "It continues to reaffirm and confirm in my mind that Christ is the answer to our problems."